New Minimal Contact Full Face Mask - the ResMed AirFit F30
Author: CPAP Club
Date Posted: 25 June 2019
We all need the best quality sleep every night to maintain good health and well being, and if you're using CPAP therapy to manage your sleep apnea symptoms, you understand how important of a role your CPAP mask plays in this.
We are all unique which means that a mask that suits someone else may not be the right choice for you.
Selecting a mask which makes you uncomfortable is not going to help you feel more rested, which is why you shouldn't just put up with it. Your sleep quality is important for your health, so it's worth considering newer alternative masks which are available and may better suit your specific needs.
If you are feeling discomfort or you just want to try an alternative to see if there is a better suited to you, then the new ResMed AirFit F30 mask may be a great option!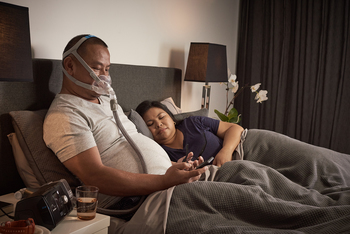 A good CPAP mask delivers air to your passageways so you can breathe easier, while keeping you comfortable so as to not disrupt your sleep. This combination helps you rest well each night. However, some people often can feel a bit cramped when the unit covers both their nose and mouth.
This is why ResMed have developed the new AirFit F30 model. This revolutionary mask is specifically designed to be a full face mask with "minimal face contact". It offers the complete headgear set up that people like, but with less mask shielding at the front by only covering your mouth, and not your whole nose.
Who is the AirFit F30 for?
The mask is designed to be less-intrusive so you can experience little discomfort and ultimately sleep better. As a lighter full face mask option with a streamlined modern design, the AirFit F30 is ideal for people who:
have a nasal bridge sensitivity
require a full mask but want less contact on their face
sleep on their side
breathe through their mouth
wear glasses
The AirFit F30 can either be your mask of choice every night, or a backup for when you have a cold or nasal congestion and you need to adjust your breathing.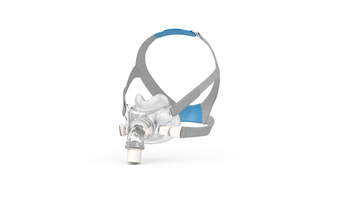 What benefits does the AirFit F30 offer you?
The AirFit F30 offers you the latest in innovative mask technology to provide you with a greater CPAP experience.
1.

Minimal contact with your face
The ultra compact cushion sits lower on your face, freeing up the nasal bridge area which prevents red markings from pressure and discomfort. This setup offers you far less facial contact compared to previous full face masks, which helps you to see more and even wear glasses.
The addition of the Quiet Air diffused venting system gently diffuses exhaled air to minimise noise, facilitating a more peaceful sleep for you and your partner.
3.

The ideal fit for comfort
One-size-fits-all headgear contours to your unique face structure and then uses magnetic clips to help with quick and easy fitting.
4.

Greater sleeping flexibility in and out of bed
The quick-release 360° elbow not only allows for a greater range of movement while you're sleeping, it also allows you to disconnect your headgear from the CPAP machine. This means that if you need to get up during the night to get a glass of water, attend to a child or go to the bathroom, you don't have to take the mask off and put it back on again every time you leave the bed.
If you are not 100% happy, the AirFit F30 has a 14 day money back guarantee!