Revolutionary CPAP Mask - Introducing the ResMed AirFit N30i
Author: CPAP Club
Date Posted: 25 June 2019
Does your CPAP mask force you to sleep in an unnatural position? Does the tube interfere with your movement during sleep? Is it difficult to get a good seal?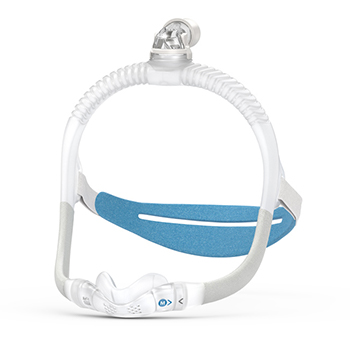 If your CPAP mask is interfering with your natural sleep habits, it might be time to consider the ResMed AirFit N30i Nasal Mask.
The AirFit N30i is a nasal cradle mask that features a revolutionary "top-of-the-head" tube design.
Most CPAP nasal pillows and nasal masks are designed with the tube coming down from the front of the mask. Unfortunately, this traditional design can cause problems for some sleepers.
Instead of coming up from below, air is delivered from the CPAP machine through a SpringFit frame.
The majority of the tubing is behind you, giving you the ability to sleep on your front or any side comfortably.
The elbow connection at the top of the head rotates 360º, giving you even more freedom of movement.
This revolutionary design also gives you the freedom to get closer to your partner and allows you to wear glasses to read or watch tv.
The AirFit N30i uses a quick-release elbow connects the tubing to the mask, so you can disconnect it using a simple pinch clip. With this new mask, getting up without taking off your mask takes hardly any effort.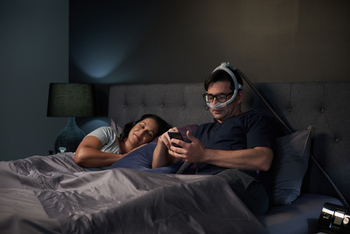 This mask features a SpringFit frame that adjusts for a stable and personalised fit. It's quick to fit and stay in place all night.
The septum bridge membrane ensures an intuitive fit and provides a stable seal1 all the way to the tip of the nose, no matter how much you move around. Whether you toss and turn at night or simply want to sleep on your stomach or side, the AirFit N30i is a must try mask.
Individuals who have tried the AirFit N30i love it and would take it home as their mask of choice.2
Click here for details and pricing for the AirFit N30i
If you try it and don't love it, we offer a 14 day money back guarantee.
References:
1. ResMed external 7 days clinical study of existing 24 ResMed and non-ResMed patients, conducted between 21/02/2018 - 12/03/2018. Data on file; ID A4320645.
2. ResMed external fitting study of existing 37 ResMed and non-ResMed patients, conducted between 09/04/2018 - 20/04/2018. Data on file; ID A4327753.