The Next Generation of Nasal Pillow Masks – the ResMed AirFit P30i
Author: CPAP Club
Date Posted: 27 June 2019
Sleep is our own personal time to rest our minds and bodies during a peaceful period of recovery. However, for those needing CPAP Therapy to manage sleep apnea and improve their quality of sleep, it can sometimes be a bit of a challenge.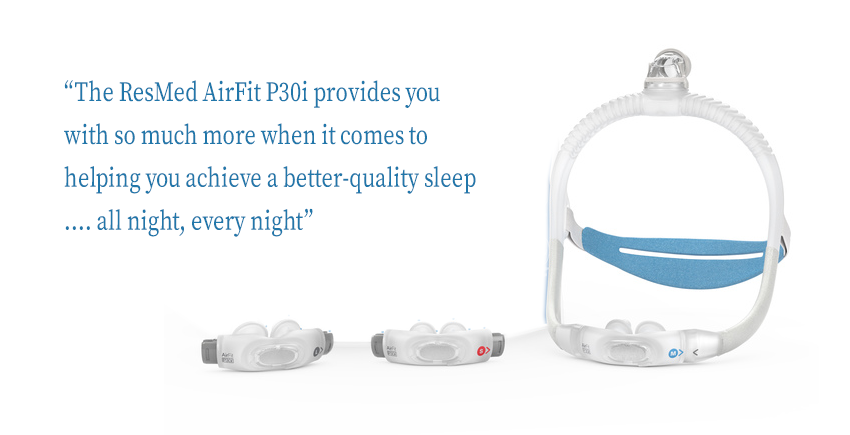 Many people find their sleep is disturbed and uncomfortable due to their choice of mask. Some common difficulties with CPAP masks are:
The inability to sleep on your front or side
Disturbed sleep due to CPAP tubing
Leaking masks with poor seals
Issues fitting and removing the intricate mask
The large size of the mask prohibiting closeness to a partner
Red marks on face long after use
Do any of these problems resonate with you?, then the ResMed AirFit P30i nasal pillow mask may be an ideal choice for you.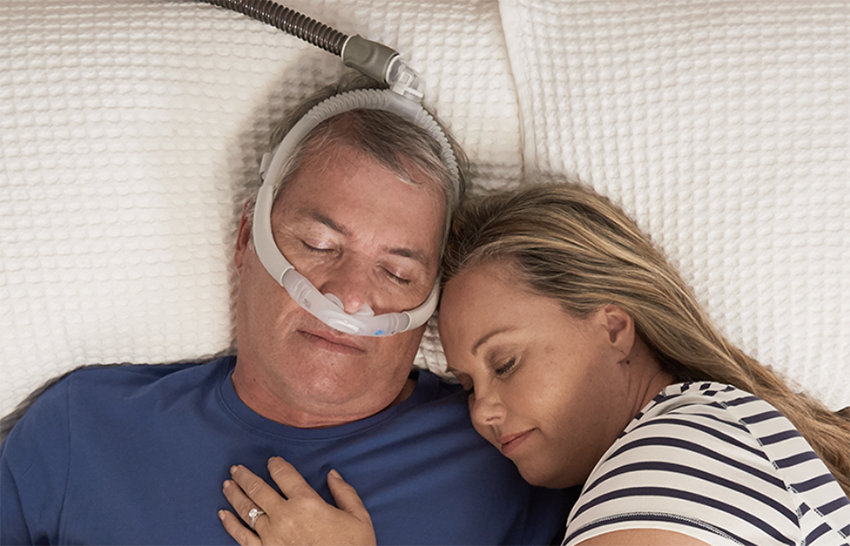 The AirFit P30i is the latest revolution in CPAP Masks.
This new mask features an innovative "top-of-the-head tube" system to further improve on the success of ResMed's previous AirFit N30i Nasal Cradle Mask.
The best part about the "top-of-the-head tube" system is that it now places the tubing above your body allowing you to sleep on your back, front or side.
Plus, the simplicity of the nasal pillow allows you to wear your glasses or watch tv in bed, and even get closer to your partner with tubing getting in the way.
The 'elbow connection' piece at the top of the head also gives 360º freedom of movement while sleeping, freeing you up like never before.
Unlike other models, the ResMed AirFit P30i moves away from the traditional head cradle design and towards a light-weight, unobtrusive nose pillow which offers an excellent air seal.
Additionally, it features the new QuietAir technology, meaning it is now quieter than any prior models.
So, if you are a restless sleeper or are uncomfortable with traditional CPAP headgear, the ResMed AirFit P30i may be well-suited to your needs.
The ResMed AirFit P30i provides you with so much more when it comes to helping you achieve a better-quality sleep all night, every night.
The P30i mask comes with a 14 day money back guarantee!
Feel the freedom with the ResMed AirFit P30i.
Click here for more information and pricing on the P30i mask
Do you already own the ResMed AirFit N30i Nasal Mask?
If you currently own the AirFit N30i model, you can simply purchase the AirFit P30i nasal pillows cushion piece on its own and use it to replace the existing mask cushion.
You don't have to spend money on an entirely new system – just purchase the add-on cushion and you have transformed your N30i into a P30i mask!
Click here for more information and pricing on the P30i cushions