AirSense 10 AutoSet – one of the most popular CPAP machines on the market
The ResMed AirSense 10 AutoSet CPAP is simple, easy to use and packed full of features. It is clearly one of the most popular Automatic CPAP machines in Australia, with thousands of new patients enjoying the benefits of treatment each year.
The AirSense 10 uses a specific algorithm which will automatically adjust your machine pressure levels on a breath by breath basis to keep your airway open and suit your changing needs throughout the night.
It is a sleeker, lighter and more advanced version of the ResMed S9 series of the CPAP machines.
The built-in humidifier makes it lighter than the previous models and offers more added comfort features.
The AirSense 10 AutoSet device will provide you with comfortable therapy, at the lowest necessary pressure level.
AirSense 10 Features In-Depth
Intuitive Patient Menu
A simple patient menu enables you to just press start and go. It provides feedback on your therapy every morning and makes it easy for you to change the comfort settings to suit your needs.
SmartStart
The SmartStart technology allows the machine to start your treatment as soon as you start breathing into your mask. Once you remove your mask, the machine will sense that you are not using the machine and turn off automatically.
AutoRamp
This innovative feature knows when you are still awake and keeps pressures low to help you fall asleep easier. Once you are asleep, it automatically increases or ramps up the pressure to your prescribed level.
Improved Humidification
The AirSense 10 devices offer consistent humidification throughout the night with the integrated HumidAir humidifier and optional ClimateLine Air heated tube with Climate Control technology.
The ClimateLineAir is a heated tubing option designed to maintain the temperature of the air as it passes from the humidifier through the tube for a more comfortable experience and helps avoid rainout condensation.
The Climate Control system will sense the room temperature and adjust the level of humidification delivered to your mask.
Expiratory Pressure Relief (EPR)
This feature allows the pressure to drop, so that when you exhale the pressure is lower to make it easier to breathe out against.
Advanced Apnea Event Detection
Sleep data downloads from the AirSense 10 Auto include if there is any indication of central sleep apnea and/or Cheyne-Stokes respiration.
Central Sleep Apnea (CSA) is typically associated with certain neurological related problems, your brain does not send proper signals to the muscles that control your breathing. It is different from the more common obstructive sleep apnea (OSA) because the problem is not caused by a blockage of the airway.
Cheyne-Stokes Breathing is when your breathing speeds up, slows down, stops, and then starts up again. This goes in cycles all through the night and is common in people who have had heart failure or a stroke.
Easy-Breathe Motor
The AirSense 10 CPAP motor is whisper-quiet, offering you and your bed partner a more peaceful night's sleep.
Ambient Light Sensor
The built -in ambient light sensor adjusts the brightness of the CPAP machine screen based on the light in your room. If you need to get up during the night, the screen's back light will not disrupt your bed partner. The light will turn off automatically after a few seconds, so you can easily settle back to sleep.
Accessible Sleep Data
All AirSense 10 CPAP machines come equipped with wireless connectivity*, so your sleep data can go directly to your CPAP Club support team and to you through the myAir app.
myAir allows you to see how well you slept the previous night, from the convenience of your computer or smartphone. myAir even sends you tips on how you can improve your sleep and helps keep you engaged and motivated on your sleep therapy journey.
*Wireless communication depends on network availability. This service is not automatically provided, you must request and authorise CPAP Club to access your data.
For Her CPAP Machine
There is now a CPAP machine specifically for women, the AirSense 10 AutoSet for Her. Research shows that sleep apnea in women is different to sleep apnea in men1. So, it makes sense that the treatment for women should be different too, as nearly 40% of newly diagnosed sleep apnea patients are female2.
Women tend to take longer to fall asleep than men3. They also have fewer apneas than men, specifically fewer full obstructive apneas. This means their upper airways do not collapse as often4.
However, they do have more flow limitation, which means their upper airway narrows and less air enters the lungs4. Women also tend to have clusters of events during REM (dream stage) sleep4.
All these aspects of sleep apnea can cause arousal and disrupted sleep. This can lead to symptoms such as insomnia, fatigue, reduced daytime cognitive function, morning headaches and depression5.
The AirSense 10 AutoSet for Her is the first CPAP machine designed specifically to treat the female specific characteristics of OSA and deliver lower pressures throughout the night. The AirSense 10 AutoSet for Her offers a unique and tailored therapy solution for women.
Functional Features
| | | |
| --- | --- | --- |
| | AirSense 10 AutoSet | AirSense 10 AutoSet For Her |
| CPAP Mode | ✓ | ✓ |
| AutoSet Mode | ✓ | ✓ |
| AutoSet For Her Mode | ✘ | ✓ |
| Cheyne-Stokes Respiration Detection | ✓ | ✓ |
| Central Apnea Detection | ✓ | ✓ |
| RERA Reporting | ✘ | ✓ |
| AutoSet Algorithm with AutoSet Response | ✓ | ✓ |
| AutoRamp with Sleep Onset Detection | ✓ | ✓ |
| Advanced HumidAir Technology | ✓ | ✓ |
| Enhanced Climate Control Auto | ✓ | ✓ |
| Expiratory Pressure Relief (EPR) | ✓ | ✓ |
| SmartStart | ✓ | ✓ |
| Built-in Wireless Connectivity* | ✓ | ✓ |
The AirSense 10 AutoSet comes with a 5 year warranty and a premium travel bag. It is packed with advanced features and delivers exactly what you need to get good nights' rest.
With all the comfort, convenience, extra functionality, advanced features listed above, it is no wonder it is one of the most popular CPAP machines on the market!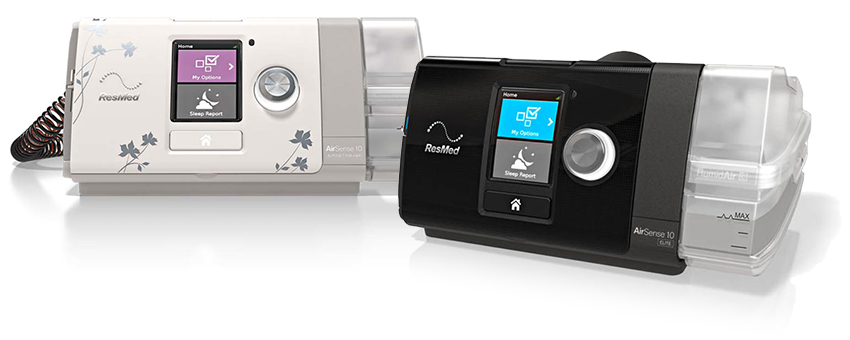 View AutoSet View AutoSet for Her
References:
1. Lin CM, TM Davidson and S Ancoli-Israel. Gender differences in obstructive sleep apnea and treatment implications. Sleep Med Rev, 2008. 12(6):481-96.
2. US Sleep Market Measures.
3. Valencia-Flores M et al. Gender differences in sleep architecture in sleep apnea syndrome. J Sleep Res 1992;1:51–3.
4. Valencia-Flores M et al. Gender differences in sleep architecture in sleep apnea syndrome. J Sleep Res 1992;1:51–3.
5. Lin CM, Davidson TM and Ancoli-Israel S. Gender differences in obstructive sleep apnea and treatment implications. Sleep Med Rev 2008;12(6):481–96.