Good things come in Small Packages - M1 Mini Travel CPAP
BMC have released their first compact travel CPAP device, the M1 Mini Auto, which is so tiny and lightweight it can easily fit in the palm of your hand!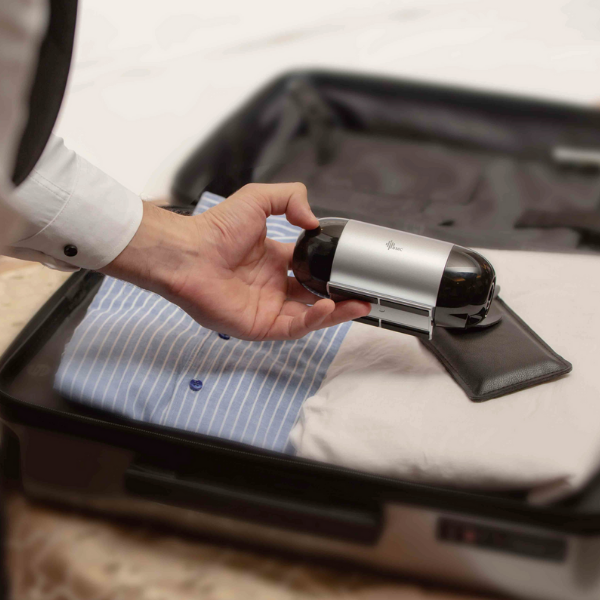 Weighing in at only 400 grams, and about the size of a mobile phone, you can take this CPAP machine anywhere. You can be rest assured that you're snoring and sleep apnea will be treated whether you are at home or out and about traveling.
The BMC M1 Mini Travel CPAP has a modern, minimalistic design featuring all the comfort and capabilities you enjoy from your bedside device, but in a small portable unit.
The M1 Mini is an Auto-adjusting device and has Waterless Humidification via a HME (Heat and Moisture Exchange) rather than a full-size humidifier. This helps to make the device smaller, lighter and a more convenient travel option.
BMC have thought of everything, underneath the M1 Mini device is even a handy rubber anti-slip strip that reduces any chance of movement of the device during therapy.
Smart Auto or CPAP Mode
The BMC M1 Mini uses intelligent pressure adjusting technology. The M1 device can automatically alter the treatment pressure to adapt to your changing pressure requirements throughout the night. This device can also be set on a fixed pressure if your script requires this.
Pressure Adjusting Sensitivity
The M1 Mini has three levels of auto CPAP adjustable sensitivity which include standard, soft, and female depending on your requirements.
Auto Ramp
The M1 Mini device can sense when you fall asleep and can adjust the ramp time accordingly. The Auto Ramp feature provides you with maximum comfort during the night.
Accessories Reminder
The M1 Mini allows you to set a accessories replacement reminder, such as CPAP filters, HME, CPAP mask, and tubing reminders to ensure optimal performance is maintained.
Maintenance Reminder
You can also set maintenance reminders at 180 days or 360 days to keep your M1 Mini device in optimal condition.
Sleep Data
The BMC M1 offers Bluetooth connectivity through the BMC LightTrip App which is available to download free on both iOS and Android.
Using the app, you can turn the device on/off, adjust settings and set up the device and your personal patient profile.
You can also easily generate your sleep reports and email them to yourself as well as your physician if required.
M1 Mini Compatible HME Masks
BMC P2H Nasal Pillow Mask
BMC N5H Nasal CPAP Mask
BMC N5AH Nasal CPAP Mask
The M1 Mini Travel device is supplied standard with a slimline 15mm tube that is compatible with most CPAP mask brands with a 22mm connector. However, only the BMC HME masks listed above will be able to provide humidification for the user.
If the device is only being used for short periods of time when travelling or camping, etc, then any mask with a 22mm connection could be used. But for longer periods, or regular use, a M1 Mini HME mask is recommended. Please note that there is currently no BMC HME full-face mask option.
M1 Mini Inclusions
BMC M1 Mini Auto CPAP device
6 ft CPAP Tubing (15mm)
Power Adapter
2 x CPAP Filters
2 x Drawstring soft pouches
User Manual