Starck S.Box - New European Designed CPAP - The Art of Beautiful Sleep
Recently released in Australia, by leading European CPAP brand Sefam Medical, the Starck S.Box Auto-adjusting CPAP has whisper quiet operation and a sleek design by renowned industrial designer Philippe Starck.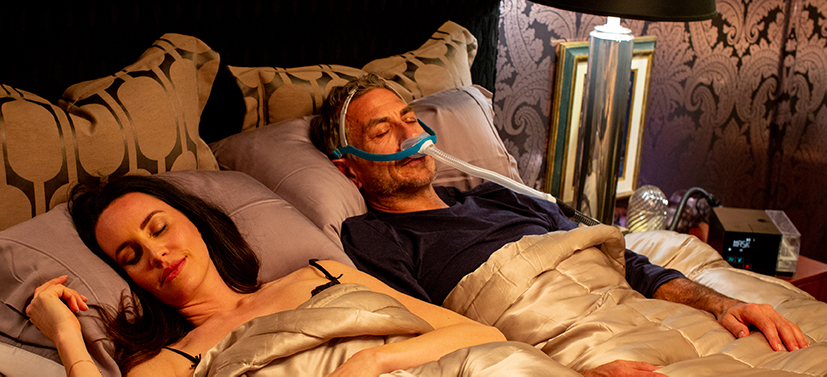 The Starck S.Box Automatic CPAP devices advanced algorithm which self-adjusts for maximum comfort and efficacy and provides optimal comfort for treating Obstructive Sleep Apnea.
The S.Box CPAP ensures that you receive the right amount of air pressure, delivered at the right time. It also includes an integrated heated humidifier and a temperature controlled heated tube for the ultimate CPAP package of European quality and excellence.
The patented Sefam humidification technology ensures you receive the correct level of humidification. The optional heated hose gently adjusts the air temperature to minimise condensation or 'rain-out' in the tube, then it gently warms the air to match your preferred air intake temperature to provide you with a comfortable user experience.
The S.Box CPAP machine has a simple, user-friendly motion sensitive digital patient display screen that can be activated by touch or remotely, by using the free Sefam Access Mobile App.
The Sefam Access App stores up to 365 sessions of data of 8 hours in duration. And all your sleep data is available via an intuitive interface to keep both you and your doctor informed of your progress. Other means of data transmission directly from the S.Box include the GPRS modem and the Wi-Fi module.
One of the biggest points of difference with the Sefam S.Box Auto-adjusting device is that also allows you to become more engaged in your treatment. In addition to the innovations of the Sefam Auto CPAP, the S.Box concept offers mobile apps and the use of compatible connected devices, such as:
Blood Pressure Monitor
Activity Tracker
Scales
The S.Box by Starck Automatic CPAP is much more than a sleep apnea machine, it is an innovative concept of 'precision medicine' that puts you at the centre of your treatment.
The S.Box Auto CPAP device has Bluetooth connectivity and can be used with other iHealth device integrations to offer you a complete health picture. These provide not only day-to-day follow up of your CPAP treatment, but also other important specific physiological parameters such as:
Blood pressure
Weight
Physical activity
Oxygen saturation
Heart rate
The Stark S.Box combines leading technology with ultimate in simplicity. The result is a less intrusive CPAP machine that delivers the same high medical standards we expect from a top of the range Auto-adjusting CPAP device, in a unique, but simple and stylish design.
Form meets function
Power meets simplicity
Sleep meets Starck
Sleep Beautifully