ResMed AirMini Travel CPAP for Treating Sleep Apnea
Author: CPAP Club
Date Posted: 8 July 2020
ResMed have changed the game by pioneering the world's smallest and lightest CPAP machine, the AirMini™.
Get quality treatment in a small portable, travel size CPAP machine.
The AirMini resembles a smartphone it is designed to be the perfect, inconspicuous bedtime partner to use at home or away.
The AirMini is the smallest CPAP in the world. It measures 5.2cm x 8.4cm x 13.6cm and weighs only 300 grams. This travel size CPAP machine is a game changer.

How is the AirMini different to other CPAP machines?
The AirMini's compact size means that many users of traditional CPAP machines will opt to take advantage of its pocket-size package as it's almost invisible on the bedside table and designed to make travelling with sleep apnea stress-free.
The AirMini system fits into your lifestyle, with a travel bag allowing you to transport the entire system (tubing, mask and device) with ease and discretion.
The ResMed AirMini is also the first CPAP machine to be operated via an app available on smartphone devices. The compact AirMini CPAP device includes CPAP (fixed pressure), APAP (automatic) and APAP for Her modes all within the one machine.
The AirMini offers features such as AutoRamp, Expiratory Pressure Relief and Smart Start. It also has waterless Humidification using HumidX HME (Heat Moisture Exchange), meaning unlike other machines, there is no need for users to manually load water into the water tank to operate this portable sleep therapy device, as the AirMini uses atmospheric moisture or waterless humidification to humidify the airflow.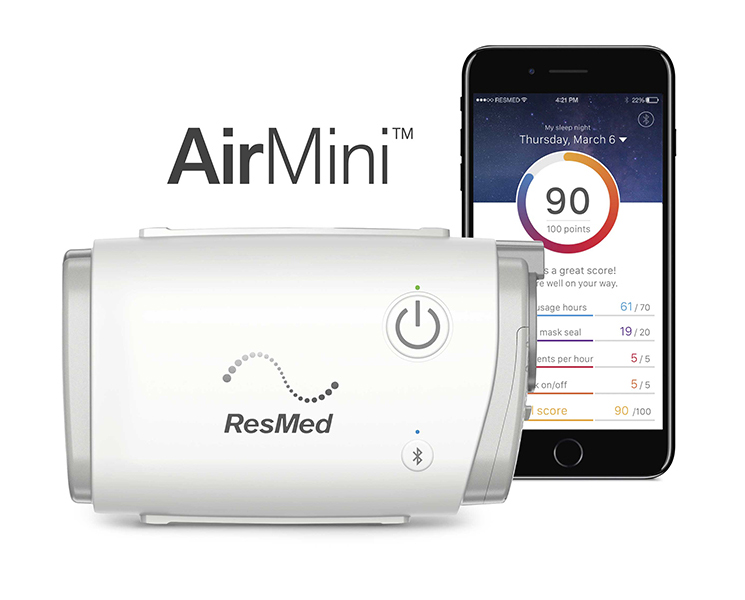 The AirMini does not have a screen, instead ResMed have developed the AirMini smartphone app to activate the machine, update settings, manage comfort options, monitor your sleep and view a compliance report. This Bluetooth-enabled app (available for iPhone, iPad or Android devices) also allows you to monitor your therapy as well as make updates to the AirMini machine settings.
If you've been diagnosed with sleep apnea and you're researching a sleep therapy device that's simple to use, light to carry around and looks perfect on your bedside table, the new AirMini is worth considering!
AirMini Mask Compatibility
ResMed have developed a tube and connector with a built-in vent that is made possible thanks to its innovative ActiveAir technology. The AirMini is compatible with a range of ResMed masks, however to deliver quality performance at such a small size, these connectors will only work with specific ResMed masks.
Compatible Mask Types for AirMini Device: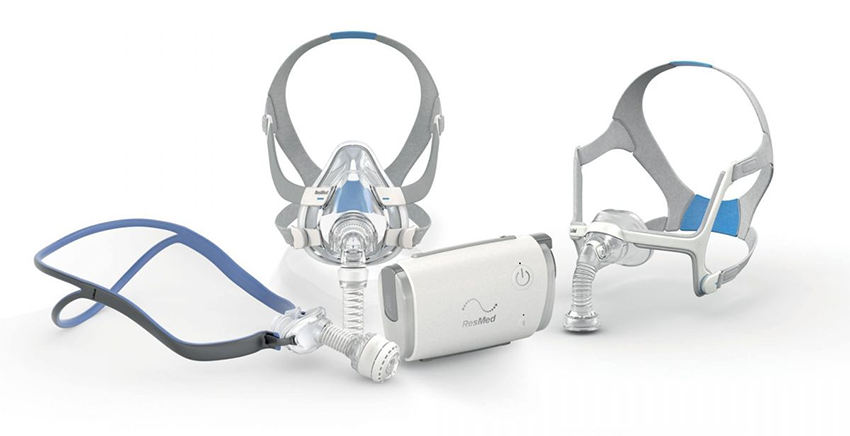 Full Face Masks:
AirTouch F20
AirFit F20
AirFit F30
Nasal Masks:
Nasal Pillows Masks:
Setting up your first AirMini
The ResMed Airmini CPAP machine can be purchased as a stand-alone device which will require a connector specific to your compatible mask, or as a package which includes a range of optional extras such as:
A variety of Mask Setup Packs
A Mount System
AirMini Small Hard Travel Case
AirMini Premium Travel Bag
HumidX & HumidX Plus
Standard CPAP Filters
AirMini Tubing
A range of mask and power accessories specific to the AirMini device
And a 30 Day Money Back Guarantee!
Browse AirMini Packages View Article Travelling with CPAP
Power Options
The AirMini can be used with either mains or battery power. View Airmini compatible power cables and batteries here