Feel the Freedom - ResMed AirFit 30i series of CPAP Masks
Does your CPAP mask force you to sleep in an unnatural position? Does the tube interfere with your movement during sleep? Is it difficult to get a good seal?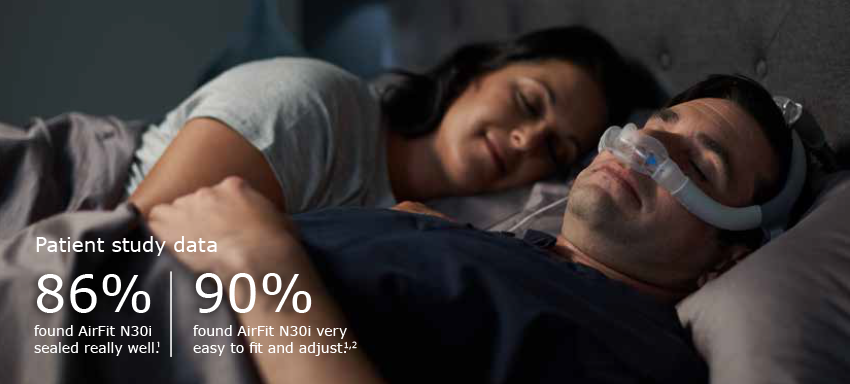 Many people find their sleep is disturbed and uncomfortable due to their mask.
Some common difficulties with CPAP masks are:
The inability to sleep on your side
Leaking masks with poor seals
Red marks on your face after use
Disturbed sleep due to CPAP tubing position
Issues fitting and removing the intricate mask
Unable to wear your glasses with the mask on
Noise coming from the vent or air leaks
To many parts, hard to clean and re-assemble
Do any of these problems resonate with you? Then the ResMed AirFit 30i series of masks may be an ideal choice.
Key Features of the 30i Series:
An UltraCompact, lightweight cushion designed to provide a wide field of vision
The under-the-nose design, minimal contact points on your face, reduces red marks and discomfort on nasal bridge
A top-of-head in-line tube connection allows you to sleep on your back, front or side
360 degree quick release elbow for easy connection and range of movement
Soft, open-edge headgear designed for comfort
Optional soft wraps can help add extra comfort on your cheeks
Whisper quiet – QuietAir technology
Magnetic clips3 so the mask is quick to put on and take off
Fewer parts – easier to clean
P30i and N30i have interchangeable parts
Gives you visual freedom – you can wear your glasses or read a book!
Gives you physical freedom – you can sleep on your side!
| | | |
| --- | --- | --- |
| The Next Generation of Nasal Pillow Masks | Revolutionary New Nasal Mask | All the Freedom You Want |
| | | |
| ResMed AirFit P30i | ResMed AirFit N30i | New ResMed F30i |
1. ResMed external 7 days clinical study of existing 24 ResMed and non-ResMed patients, conducted between 21/02/2018 - 12/03/2018. Data on file; ID A4320645.
2. ResMed external fitting study of existing 37 ResMed and non-ResMed patients, conducted between 09/04/2018 - 20/04/2018. Data on file; ID A4327753.
3. Using CPAP Masks with magnetic components is contraindicated in patients with the following pre-existing conditions: a metallic hemostatic clip implanted in the head to repair an aneurysm and/or metallic splinters in one or both eyes.